This page uses affiliate links, and we may receive a commission on purchases made, at no additional cost to you. We only recommend products and services that we think are truly fabulous.
Choosing a good host is an important part of setting up your WordPress site. Not all hosts are created equal! You usually get what you pay for. If you plan to use a host not listed here, please contact us before you sign up with them to see if they are a hosting provider we can recommend, as we do not work with some hosts due to poor service. 
flywheel
This website is hosted at Flywheel. Managed hosting plans start at $15/month and include SFTP access, built-in caching, malware monitoring, excellent support, dedicated IP address, auto-backups, managed WordPress updates, and more. Obviously we think they're a great choice! They also make it a breeze for us to set up everything and then just transfer ownership of the site to you! Flywheel's customer service is absolutely top-notch. They go above and beyond — every single time.
Flywheel makes the process incredibly easy for our clients. If you want to choose Flywheel, all you have to do is let us know. Then we can set up everything and simply transfer ownership of your site to you when it's ready!
The folks at Flywheel are experts at WordPress hosting, and they focus solely on that service. So if you want to have email associated with your domain, this needs to be hosted elsewhere. G Suite (formerly Google Apps) is a great choice for this.
You'll need to register your domain elsewhere as well. We recommend Namecheap.
---
SiteGround
SiteGround is another favorite of ours, and we use their hosting for several of our personal projects. Their support team is always helpful and we have experienced virtually no wait on chat on a regular basis. You can also reach them via phone or their ticketing system. Email hosting is included with all WordPress hosting plans. New customer pricing starts at $3.95 per month, with regular monthly pricing starting at $9.95 per month.
---
WP Engine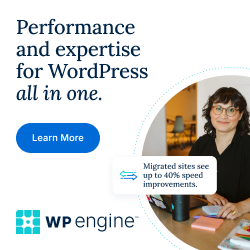 WP Engine, now the owner of StudioPress, offers fully-managed WordPress hosting with expert support, Ever-Cache technology for fast page load times, daily backups, automatic scanning (and fixing) of hack attempts, and more. Prices start at $35.00 per month, but it is well worth the investment.
---
domain registrations
For domain registrations only, we recommend Namecheap.